Deck builders Michigan – Deck contractors Michigan
Supreme Deck is Livonia, Michigan's premier Trex composite deck builder and contractor. Supreme Deck has been providing Livonia and surrounding homeowners with exceptional services and products since 1991. Our experienced crews have pleased countless customers by transforming backyard outdoor living space with our custom wood and composite decks, gazebos and sun-rooms. Every home deserves to live up to its potential and we are the deck builder of choice stepping up to meet this challenge. Each project is unique. Together with the homeowner, we will design a deck or outdoor structure that will bring you satisfaction for years to come.
Trex showroom in Livonia Michigan
Livonia homeowners are choosing Trex and Timbertech building products for their backyard decks. Our commitment to furnish the highest quality at the most affordable price is still there after all of these years. One of these is the installation of custom decks which functions for many different purposes. Decks are ideal home additions since they can be alternative function areas for varied activities, such as social events or family activities. Aside from this, there is the effective elimination of disorganized indoor surroundings since most play and fun activities are implemented outdoors.
Deck builders Michigan | Michigan top Trex installers
There are many general contractors near South Lyon and even more "construction companies" out there, but none can provide the single focus on your backyard the way we can. We don't do kitchens, bathrooms or any interior work. So, if your searching for deck builders near me, then you found the right construction company. We have the ability to build a deck for you and to make sure it gets sealed properly for you. You do not have to hire one company to build your deck and another to seal it. great decks for less than our competition.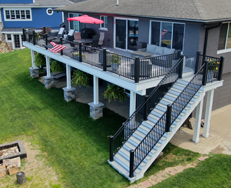 Composite Decks
Made from recycled wood and plastic, composite decking is an environmentally friendly, cost efficient alternative to natural wood, with advantages such as reduced maintenance, color retention and durability…
MORE
Cedar Decks
If the natural look of wood is important to you in Plymouth, use cedar. It is rot resistant. Cedar doesn't readily absorb moisture and, since moisture is what creates twisting and splitting, cedar decking tends to lie flat and straight…
MORE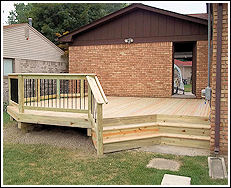 Pressure Treated Decks
If the natural look of wood is important to you in Novi , use Treated. It is rot resistant. Pressure-treated lumber costs less than cedar and can be stained any color you desire. It will warp, cup, split and twist though…
MORE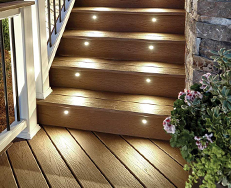 Lighting
This is a great way to illuminate your deck, create a mood and provide security…
MORE
Deck Builders Michigan – TrexPro Platinum Installers
Unsure if you want a deck? Depending on the size of your lot, where you want the deck located, and how you want it to function, there are many available options for you to choose from:
Attached Decks (Northville) are similar to patios and are usually constructed of wood or wood composite. They tend to be raised and are most commonly built to attach to the back of a home. Some homeowners choose to cover their attached decks, making this outdoor living space even more livable since it is sheltered from the elements.
Detached Decks (Novi)are located away from the home, but are easily accessible by a path or steps. These decks tend to be very forgiving of areas that have uneven terrain or poor drainage since they are built above the ground.
Decking in Royal Oak MI
Wraparound Decks (Royal Oak) are similar to old-fashioned wraparound porches, although the different sides do not have to be identical. They have the advantage of allowing you to follow the sun or shade, depending on your preference.
Multilevel Decks (Plymouth) work well for large properties or ones with yards that have changes in elevation. Multilevels are made up a series of decks that are built at different levels and are often connected by pathways or steps.
Side-Yard Decks (Commerce, MI) allow homeowners to utilize an outdoor space that is often forgotten.
Pool or Spa Decks (Farmington Hills, MI) are smart choices to surround pools and hot tubs. Decking is slip-resistant and won't burn swimmers' feet on hot days.
Entryway Decks (Rochester) are similar to front porches in many ways, although they are part of the overall architectural design and can include elements like built-in benches or planter boxes.
Outdoor Dining Decks (Oakland Twp) are extensions of the kitchen or dining area and often include features like grills, eating areas, and outdoor kitchens.
Rooftop Decks (Ann Arbor) can provide you with a quiet retreat with a view as long as your home or garage does not have structural issues.
Wood or Composite Decks (Birmingham) what's better?


Better For Rochester, MI – Wood Or Composite Decking?

100% Smarter Than Wood™ TimberTech®, knows life's tender moments happen on our tough decks. So we make them durable enough to withstand almost anything your family, friends, and the elements dish out. It's important to us that your deck looks gorgeous year after year, so we don't cut corners. We even cap the bottom of the deck board—a step some manufacturers skip—because TimberTech's got your backside.

Deck builders Michigan | South Lyon Trex Transcend decks

So you've decided to build a deck, but now you have to choose between composite and wood deck materials. So what's better, composite or wood decks? Ask a contractor this question and you'll get a long-winded, not particularly helpful answer. Many contractors will explain, very reasonably, why the most expensive and labor-intensive material is absolutely perfect for your backyard project. Supreme Deck & Construction builds new decks in Ann Arbor, South Lyon, and Brighton – in which residents enjoy all year long, and we can expertly use both wood and composite material to handcraft the perfect backyard retreat for your home.

Deck builders Micigan | Award winning Trex deck builder for Canton MI

Expert recommendation between wood and composite decking based on your needs and budget, but we also want you to have all the information you need to make an informed choice. So before you start dreaming of a spa deck combo or even start building a new deck in Livonia, you need to decide what kind of material you're going to park your grill on for the years to come. Let's run down the pros and cons of wood vs composite decks in Ypsilanti. Our team will also look at the effects of snow on wood and composite decks.

Pros and Cons of Composite Decking near Troy, MI

TimberTech deck's resistance to mold, mildew, stains, and scratches means you'll spend more time enjoying your deck, and less time maintaining it. Limited 25-year Fade & Stain Warranty on the Legacy, Tropical, and Terrain Collections, as well as our 25-year Limited Warranty that covers material defects, splinters, and damage from termites or rot on all TimberTech decking. That's how we fulfill our mission of building America's most enduring, durable, and enjoyable outdoor living space.

Deck builders Michigan | South Lyon MI

Composite decking is more expensive than most types of wood. 20 years ago consumers did not know which composites would stand the test of time. But today, Timbertech composite decking is one of the best building material available. Built from wood particles and recycled plastic, composite decking is favored by homeowners for being extremely low maintenance. Whereas wooden decks need to be treated, sprayed with insecticide, stained, washed, treated again, and then stained again the following spring, composite decking holds up well on its own year after year.

Composite decking Michigan

Composite decking might cost more upfront, but it will save you both time and money in the long run. Plus, you won't find ants or other bests boring tunnels and building nests while your back is turned. In extremely hot climates, composite decks can get too hot to stand on with bare feet, but that's rarely (if ever) a problem in the mild Commerce Summer. Some customers worry that composite decking won't have the same look and feel as certain high quality wood, but the truth is most of your backyard barbecue guests will never even know the difference.

Pros and Cons of Wood Decking in Brighton and Howell, MI

When people ask about wood vs composite decks, often they're really asking about price. According to Angie's List, a composite decking project that costs $11,000 would only cost $7,500 with cedar and $6,000 with treated lumber. But remember, wood decks require a little more TLC if you want them to last as long as a composite deck. However, despite manufacturers' claims that composite decking is "zero maintenance," any deck will require upkeep, even composite decking. Plus, treated lumber and other wood construction materials are far more resistant to rot, moisture, and insects than those manufacturers would have you believe. With the right care, there's no reason a wood deck can't last just as long as a composite deck, and without spending as much on the construction costs.

Wood vs Composite Decks Ann Arbor, MI

Chances are, you want to use your deck to make the most out of the summer season, but many Ypsilanti homeowners are worried about the damaging effects of humidity and sunlight on their new deck or patio. And although all decks require upkeep and maintenance, the Rochester summers aren't so intense that they pose a particular threat to your deck. After all, decks are hugely popular down south, where the humidity and heat make the Ypsilanti summer seem mild in comparison. There's the long, snowy, icy, freezing, when-will-it-be-over Ann Arbor winter.

Trex deck builders near me in Michigan

Many of our customers want to know about the effects of snow and wood or composite decking. If you're looking for a material that will hold up best under several feet of snow and ice, then composite materials that won't absorb moisture, rot, or warp during the spring thaw are your best bet. Composite decking might cost more during the installation, but it won't require as much preparation or maintenance before, during, and after the Commerce winter. But truthfully, wood decks hold up just fine in the Rochester winter.

Michigan's winters and decks

Building new decks in Milford, and a good deck can handle a little snow a lot of snow. In general, new deck builders will ensure your backyard project can withstand several feet of snow. Shoveling a path to walk through, there's no reason to clear your deck of snow and ice. In fact, doing so is almost certain to scratch composite decking or gouge holes in wood decking. So save your back the trouble and just leave the accumulated snow in Howell, MI for the sun to deal with in time

Award winning Trex deck builders Michigan
As an extension of your home, a deck allows you to bring the entertainment outside, where you and your guests can enjoy pleasant weather in a relaxed atmosphere especially in Milford, Michigan. The new space allows your family and friends to participate in more activities outside. Whether you want to host a barbecue or relax in a hot tub under the stars, a deck can definitely enhance your lifestyle and also raise the value of your home. Not only will a well-built deck from Supreme Deck Construction (Livonia) increase your family's enjoyment of your home, but it will also help attract buyers if you decide it is time to sell your home.
Deck repairs in Michigan
Maybe you just need some repairs for your Oakland Township deck? Whether you already have a plan in mind for what you want or you are at the beginning of the process, our team of deck builders is ready to help you turn your dreams into reality. Give us a call today and let us show you what a new deck can do for you. 734-432-0099
Deck building and construction and repair near West Bloomfield is what we specialize in.
Looking for deck builders near me? Michigan homeowners realize that by expanding their living space to the outdoors, they are making an investment that will not only increase the value of their home, but will provide a haven for relaxation, leisure, and entertainment. A deck does exactly that. Because this decision is so important, homeowners desire to work with someone they trust will maximize their home's value. That is why Supreme Deck is determined to provide you with the best possible service available.There are many material options on the market available to homeowners looking to begin the deck building process.
Wood decking in Michigan
Some of these include pressure-treated lumber, composite, PVC,Trex, Ipe, cedar, Cumaru, redwood, Azek, Fiberon, and other low-maintenance materials. The material you choose couples with the design to produce the product of your dreams. Supreme Deck, Inc. has created three specific choices to help homeowners narrow down your deck building project. You choose the level of service you would like; choose from Builder Series decks, custom decks, and composite deck packages..
DECK BUILDERS MICHIGAN FOR SOUTH LYON, MICHIGAN
Looking to build a standard deck- simple and beautiful, made of quality material, and value-packed. You have the option to choose from four of our most popular deck sizes. The sizes and material options are limited, but due to the high volume and demand for these particular decks, we are able to offer them for an exceptional price giving the homeowner our builder pricing.
Deck builder Michigan for Bloomfield Hills, Michigan
Do you love your deck but are tired of the maintenance? Does your deck have a good structure but you are eager to update the "look"? Is you deck floor or railing rotting? This package is for you. We begin this process with a structural assessment on your current deck. We remove old decking and railing and reinstall with low-maintenance or composite decking and railing or with another material of your choice.
COMPOSITE DECK | LOW MAINTENANCE DECKS | TIMBERTECH DECKS NEAR ROYAL OAK
Crafted with excellence and completely custom, this is the product which is the evidence of your dreams realized. The options and design choices for your deck building project are endless. Each project is fully custom built around you and your home. The way you intend to use this deck is imperative during the design process. Do you entertain a lot, then you need lighting to invite the crowds from indoors to meander outdoors and extend the leisurely enjoyment? Do you enjoy multi-tiered decks or a big expanse of space at a single level? Will you need shade during certain parts of the day, then call us
DECK REPAIR & DECK CLEANING
We have handyman on staff that are trained in replacing rotting deck boards, lattice, loose rails, rotted king posts, and even level decks that have heaved after the winter thaw. Purchase a new house and need an opinion if the deck is up to code? Supreme Deck is a licensed building company that can excel at every level of carpenter that is needed down to a single board repair. Service and repair thousands of weathered and neglected decks. Generally, we can also replace fence posts that have rotted causing the fence to lean or tilt. Have a deck where the steps are rotting and need replaced, then get a free estimate.
Composite deck hidden fasteners
Generally, Tiger Claw hidden deck fasteners on our composite deck installations. They are a black powder coated stainless steel clip. Overall, we feel that by using this clip it will hold up far better than the industry standard plastic clip. great decks for less.
Deck builders near me | We offer great decks for less Michigan
Sterling Heights, Michigan Deck Repair & Building




Auburn Hills, Michigan Deck Repair & Building




Grosse Pointe, Michigan Deck Repair & Building




Saint Clair Shores, Michigan Deck Repair & Building




Livonia, Michigan Deck Repair & Building




Troy, Michigan Deck Repair & Building




Birmingham, Michigan Deck Repair & Building




Bloomfield, Michigan Deck Repair & Building




Bloomfield Hills, Michigan Deck Repair & Building




Canton, Michigan Deck Repair & Building




Bloomfield Hills, Michigan Deck Repair & Building




Dearborn, Michigan Deck Repair & Building




Northville, Michigan Deck Repair & Building




Rochester Hills, Michigan Deck Repair & Building




Plymouth, Michigan Deck Repair & Building




West Bloomfield, Michigan Deck Repair & Building




Ann Arbor, Michigan Deck Repair & Building




Brighton, Michigan Deck Repair & Building




Milford, Michigan Deck Repair & Building




South Lyon, Michigan Deck Repair & Building

Ferndale, Michigan Deck Repair & Building




Farmington, Michigan Deck Repair & Building




Lake Orion, Michigan Deck Repair & Building




Commerce, Michigan Deck Repair & Building




Hartland, Michigan Deck Repair & Building




Novi, Michigan Deck Repair & Building




Clarkston, Michigan Deck Repair & Building




Clinton Township, Michigan Deck Repair & Building




Fenton, Michigan Deck Repair & Building




Royal Oak, Michigan Deck Repair & Building




Oakland Township, Michigan Deck Repair & Building




Oxford, Michigan Deck Repair & Building


Macomb, Michigan Deck Repair & Building


Howell, Michigan Deck Repair & Building




Howell, Michigan Deck Repair & Building




Shelby, Michigan Deck Repair & Building




Holly, Michigan Deck Repair & Building




Ypsilanti, Michigan Deck Repair & Building




Washington Township, Michigan Deck Repair & Building




Harrison Twp, Michigan Deck Repair & Building
Save
Save
Save
Save
Save
Save
Save
Save
Save
Save