DECK BUILDERS & CONTRACTORS IN TROY MICHIGAN ( MI )
1-800-965-2405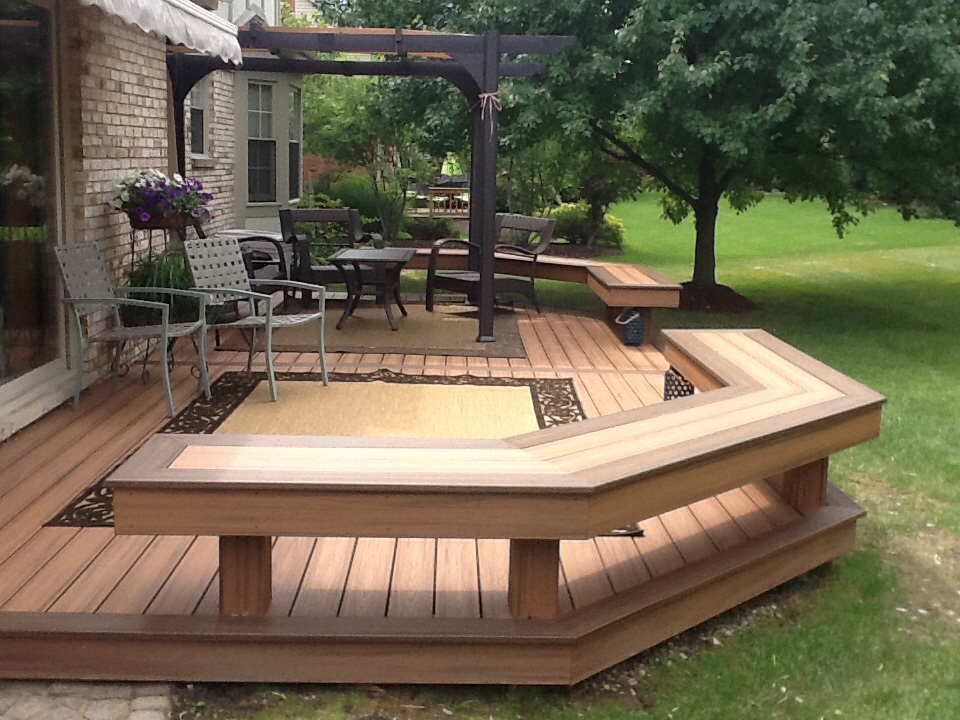 Supreme Deck is Troy, Michigan's premier deck builder and contractor, has been providing homeowners with exceptional services and products since 1991. Our experienced crews have pleased countless customers by transforming backyard outdoor living space with our custom wood and composite decks, gazebos and sun-rooms. Every Troy home deserves to live up to its potential and we are the deck builder of choice stepping up to meet this challenge. Each project is unique. Together with the homeowner, we will design a deck or outdoor structure that will bring you satisfaction for years to come. Supreme Deck building contractors in Michigan, offer a wide choice of building materials that we can offer. Our commitment to furnish the highest quality at the most affordable price is still there after all of these years. Troy homeowners are fast picking up on the growing popularity of home improvement. One of these is the installation of custom decks which functions for many different purposes. Decks are ideal home additions since they can be alternative function areas for varied activities, such as social events or family activities. Aside from this, there is the effective elimination of disorganized indoor surroundings since most play and fun activities are implemented outdoors.
There are many general contractors in Troy, Michigan and even more "construction companies" out there, but none can provide the single focus on your backyard the way we can. We don't do kitchens, bathrooms or any interior work. We don't believe in the "Jack of all Trades" concept. We believe in specializing in one trade. We have the ability to build a deck for you and to make sure it gets sealed properly for you. You do not have to hire one company to build your deck and another to seal it.



Read Our Reviews


A 2015 TrexPro Platinum Installer

Composite Decks
Made from recycled wood and plastic, composite decking is an environmentally friendly, cost efficient alternative to natural wood, with advantages such as reduced maintenance, color retention and durability…
MORE
Cedar Decks
If the natural look of wood is important to you, use cedar. It is rot resistant. Cedar doesn't readily absorb moisture and, since moisture is what creates twisting and splitting, cedar decking tends to lie flat and straight…
MORE
Pressure Treated Wood Decks
Screen Rooms
Deck building and construction is what we specialize in near Troy, Michigan.
Troy, Michigan homeowners realize that by expanding their living space to the outdoors, they are making an investment that will not only increase the value of their home, but will provide a haven for relaxation, leisure, and entertainment. A deck does exactly that. Because this decision is so important, homeowners desire to work with someone they trust will maximize their home's value. That is why Supreme Deck is determined to provide you with the best possible service available. There are many material options on the market available to homeowners looking to begin the deck building process. Some of these include pressure-treated lumber, composite, PVC,Trex, Ipe, cedar, Cumaru, redwood, Azek, Fiberon, and other low-maintenance materials. The material you choose couples with the design to produce the product of your dreams.Supreme Deck, Inc. has created three specific choices to help homeowners narrow down your deck building project. We allow YOU to choose the level of service you would like; choose from Builder Series decks, custom decks, and composite deck packages..
BUILDER SERIES DECKS IN TROY, MICHIGAN
This homeowner is looking to build a standard deck- simple and beautiful, made of quality material, and value-packed. You have the option to choose from four of our most popular deck sizes. The sizes and material options are limited, but due to the high volume and demand for these particular decks, we are able to offer them for an exceptional price giving the homeowner our builder pricing.
RE-DECK or RESURFACE YOUR WOOD DECK WITH TIMBERTECH IN TROY, MI 
Do you love your deck but are tired of the maintenance? Does your deck have a good structure but you are eager to update the "look"? Is you deck floor or railing rotting? This package is for you. We begin this process with a structural assessment on your current deck. We remove old decking and railing and reinstall with low-maintenance or composite decking and railing or with another material of your choice.
COMPOSITE | LOW MAINTENANCE DECK | TREX DECKS NEAR TROY, MICHIGAN
Crafted with excellence and completely custom, this is the product which is the evidence of your dreams realized. The options and design choices for your deck building project are endless. Each project is fully custom built around you and your home. The way you intend to use this deck is imperative during the design process. Do you entertain a lot? Will you need lighting to invite the crowds from indoors to meander outdoors and extend the leisurely enjoyment? Do you enjoy multi-tiered decks or a big expanse of space at a single level? Will you need shade during certain parts of the day? And truly custom to YOU, do you prefer to mix natural elements with low-maintenance options? All these questions will help yield a deck design that will be certain to satisfy you. Call us to start your dreams…
DECK REPAIR & DECK CLEANING FOR TROY, MICHIGAN
We have handyman on staff that are trained in replacing rotting deck boards, lattice, loose rails, rotted king posts, and even level decks that have heaved after the winter thaw. Purchase a new house and need an opinion if the deck is up to code? Supreme Deck is a licensed building company that can excel at every level of carpenter that is needed down to a single board repair. We service and repair thousands of weathered and neglected decks. We can also replace fence posts that have rotted causing the fence to lean or tilt. Have a deck where the steps are rotting and need replaced? We see it all the time. We can also give you a free estimate to clean and seal the deck while we are there.
Troy is a city located among Metropolitan Detroit's northern suburbs in Oakland County in the state of Michigan. The population was 80,980 at the 2010 census, making it the 11th-largest city in Michigan by population, and the largest city in Oakland County. Troy has become a business and shopping destination in the Metro Detroit area, with numerous office centers and the upscale Somerset Collection mall.
In 2011, Troy was ranked the safest city in Michigan, as well as the 19th safest city in the nation. In 2008, Troy was ranked 22nd on a list of "Best Places to Live" in the United States by CNN Money, using criteria including housing, quality of education, economic strength, and recreational opportunities. In 2008, Troy ranked as the fourth most affordable U.S. city with a median household income of approximately $79,000
Other Michigan contractor maintenance services we offer near Troy, Michigan (MI) include:
Auburn Heights, Michigan Deck Repair & Building




Auburn Hills, Michigan Deck Repair & Building




Berkley, Michigan Deck Repair & Building




Beverly Hills, Michigan Deck Repair & Building




Big Beaver, Michigan Deck Repair & Building




Bingham Farms, Michigan Deck Repair & Building




Birmingham, Michigan Deck Repair & Building




Bloomfield, Michigan Deck Repair & Building




Bloomfield Hills, Michigan Deck Repair & Building




Cady, Michigan Deck Repair & Building




Campbells Corner, Michigan Deck Repair & Building




Center Line, Michigan Deck Repair & Building




Charing Cross, Michigan Deck Repair & Building




Clarenceville, Michigan Deck Repair & Building




Clawson, Michigan Deck Repair & Building




Clifton Mill, Michigan Deck Repair & Building




Conners Creek, Michigan Deck Repair & Building




Davis, Michigan Deck Repair & Building




Disco, Michigan Deck Repair & Building




Eastpointe, Michigan Deck Repair & Building

Ferndale, Michigan Deck Repair & Building




Franklin, Michigan Deck Repair & Building




Gingellville, Michigan Deck Repair & Building




Goodison, Michigan Deck Repair & Building




Hazel Park, Michigan Deck Repair & Building




Highland Park, Michigan Deck Repair & Building




Huntington Woods, Michigan Deck Repair & Building




Keego Harbor, Michigan Deck Repair & Building




Lake Angelus, Michigan Deck Repair & Building




Lake Orion, Michigan Deck Repair & Building




Lake Orion Heights, Michigan Deck Repair & Building




Lathrup Village, Michigan Deck Repair & Building




Macomb, Michigan Deck Repair & Building 




Madison Heights, Michigan Deck Repair & Building




Mount Vernon, Michigan Deck Repair & Building




Oak Park, Michigan Deck Repair & Building




Pleasant Ridge, Michigan Deck Repair & Building




Pontiac, Michigan Deck Repair & Building




Preston Corners, Michigan Deck Repair & Building




Rochester, Michigan Deck Repair & Building