DECK BUILDERS & CONTRACTORS NEAR LIVONIA MICHIGAN ( MI )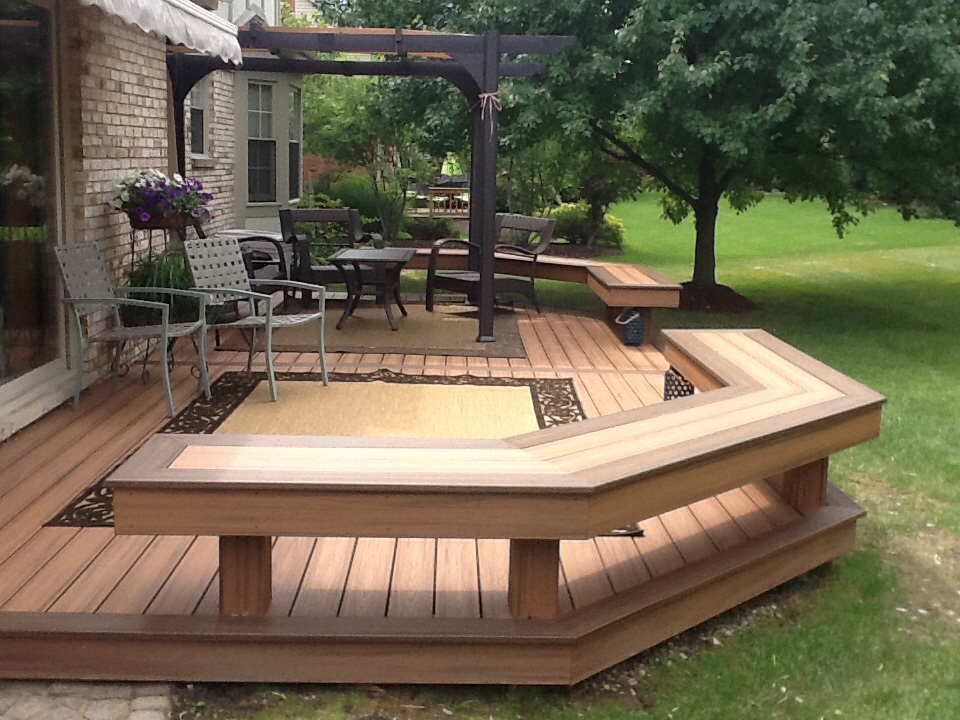 Supreme Deck, Livonia Michigan's premier custom deck builder and contractor, has been providing homeowners with exceptional services and products since 1991. Our experienced crews have pleased countless customers by transforming backyard outdoor living space with our custom wood and composite decks, gazebos and sunrooms. Every home deserves to live up to its potential and we are the deck builder of choice stepping up to meet this challenge. Each project is unique. Together with the homeowner, we will design a deck or outdoor structure that will bring you satisfaction for years to come. Supreme Deck building contractors in Michigan, offer a wide choice of building materials that we can offer. Our commitment to furnish the highest quality at the most affordable price is still there after all of these years. Home owners are fast picking up on the growing popularity of home improvement. One of these is the installation of custom decks which functions for many different purposes. Decks are ideal home additions since they can be alternative function areas for varied activities, such as social events or family activities. Aside from this, there is the effective elimination of disorganized indoor surroundings since most play and fun activities are implemented outdoors.
There are many general contractors and even more "construction companies" out there, but none can provide the single focus on your backyard the way we can. We don't do kitchens, bathrooms or any interior work. We don't believe in the "Jack of all Trades" concept. We believe in specializing in one trade. We have the ability to build a deck for you and to make sure it gets sealed properly for you. You do not have to hire one company to build your deck and another to seal it. We build great decks for less than our competition in Livonia, Michigan.



Read Our Reviews


A 2017 TrexPro Platinum Installer
Composite Decks
Made from recycled wood and plastic, composite decking is an environmentally friendly, cost efficient alternative to natural wood, with advantages such as reduced maintenance, color retention and durability…
MORE
Cedar Decks
If the natural look of wood is important to you, use cedar. It is rot resistant. Cedar doesn't readily absorb moisture and, since moisture is what creates twisting and splitting, cedar decking tends to lie flat and straight…
MORE
Pressure Treated Wood Decks
A great way to add value to your home is to add a womanized deck. This is the least expensive material to use to construct a wood deck.
Screen Rooms
A great way to add value to your existing deck or add on to your house in Livonia, Michigan. It can be used as a 3 season room or add glass for the Michigan winters.
There's no doubt that a deck will add to the enjoyment you get out of your home. It brings a whole new living space to the property making the outdoors an extension of your house. However, as with other improvements, a deck is an investment. When you start putting together your budget it's good to know how much return you can expect.

General Deck Value Estimates in Michigan
A deck addition in Livonia is one of the best improvements a person can make to their home in regards to adding value. It's all about what appeals to buyers and a well-made deck is something that can add real wow-factor as well as functionality. Below are a few statistics on how much value a deck adds to a home.
· HGTV has estimated that homeowners should see a return of 65-90%.
· Yahoo Finance stated that a $10,000 wood deck typically add $8,600 to the resale value – that's approximately an 82% return.
· In 2007 Remodeling Magazine found that a wood deck addition yielded the best return on investment, adding $8,835 to the value.
· On average a wood deck costs just $15 a square foot as opposed to $85 a square foot for the interior of a 2,000 sqft home.
There are many more findings like the ones above. Now that we've established that a wood deck can add real value to your home let's take a look at some of the factors that affect value the most.
Factors That Affect the Value of a Deck
Area you live in – From broad aspects like the region or state right down to the neighborhood, the area that you live in will have a huge bearing on the value of a deck. If you live in a climate that is conducive to outdoor activity most of the year a deck can greatly increase the appeal of your home. Another value factor is the cost of construction in a region.
Construction – Of course, the construction, most notably the size and materials used, has a significant impact on the cost and value of the deck. DIY homeowners that build the deck themselves stand to get the biggest return on their investment. However, if you have to buy tools for the project or the deck is poorly constructed then that reduces the return you see.
Added features – Sometimes those little extras can add a lot to the value of a deck. But be careful not to over improve. If the main goal is to increase your property value, adding a ton of expensive bells and whistles will likely cost you more than what you would recoup in increased value. However, if you plan to be in your home and make use of the deck for a while then the added cost can be worth it.
More important than added value is the added enjoyment you'll get out of a deck. Focus on building a deck that meets your needs and you're sure to get your money's worth.
Deck building and construction is what we specialize in for Livonia.
Michigan homeowners realize that by expanding their living space to the outdoors, they are making an investment that will not only increase the value of their home, but will provide a haven for relaxation, leisure, and entertainment. A deck does exactly that. Because this decision is so important, homeowners desire to work with someone they trust will maximize their home's value. That is why Supreme Deck is determined to provide you with the best possible service available.There are many material options on the market available to homeowners looking to begin the deck building process. Some of these include pressure-treated lumber, composite, PVC,Trex, Ipe, cedar, Cumaru, redwood, Azek, Fiberon, and other low-maintenance materials. The material you choose couples with the design to produce the product of your dreams.Supreme Deck, Inc. has created three specific choices to help homeowners narrow down your deck building project. We allow YOU to choose the level of service you would like; choose from Builder Series decks, custom decks, and composite deck packages..
BUILDER SERIES LIVONIA, MICHIGAN
This homeowner is looking to build a standard deck- simple and beautiful, made of quality material, and value-packed. You have the option to choose from four of our most popular deck sizes. The sizes and material options are limited, but due to the high volume and demand for these particular decks, we are able to offer them for an exceptional price giving the homeowner our builder pricing.
RE-DECK or RESURFACE YOUR LIVONIA DECK
Do you love your deck but are tired of the maintenance? Does your deck have a good structure but you are eager to update the "look"? Is you deck floor or railing rotting? This package is for you. We begin this process with a structural assessment on your current deck. We remove old decking and railing and reinstall with low-maintenance or composite decking and railing or with another material of your choice.
COMPOSITE | LOW MAINTENANCE DECK | TREX DECKS IN LIVONIA MI
Crafted with excellence and completely custom, this is the product which is the evidence of your dreams realized. The options and design choices for your deck building project are endless. Each project is fully custom built around you and your home. The way you intend to use this deck is imperative during the design process. Do you entertain a lot? Will you need lighting to invite the crowds from indoors to meander outdoors and extend the leisurely enjoyment? Do you enjoy multi-tiered decks or a big expanse of space at a single level? Will you need shade during certain parts of the day? And truly custom to YOU, do you prefer to mix natural elements with low-maintenance options? All these questions will help yield a deck design that will be certain to satisfy you. Call us to start your dreams…
DECK REPAIR & DECK CLEANING
We have handyman on staff that are trained in replacing rotting deck boards, lattice, loose rails, rotted king posts, and even level decks that have heaved after the winter thaw. Purchase a new house and need an opinion if the deck is up to code? Supreme Deck is a licensed building company that can excel at every level of carpenter that is needed down to a single board repair. We service and repair thousands of weathered and neglected decks. We can also replace fence posts that have rotted causing the fence to lean or tilt. Have a deck where the steps are rotting and need replaced? We see it all the time. We can also give you a free estimate to clean and seal the deck while we are there.
Do you know why Winter is the best time of year to build a new deck?
Craig Niner with Supreme Deck explains when is the most opportune time to build your new deck and why.
Many of our Livonia Michigan homeowners ask me when is the best time to build a new deck? Many of you may think that the best time to build a deck is the spring, but the truth is, the best time to consider building a new deck may be in the winter. The best way to explain the reasoning behind a winter deck construction is what i would refer to as the "give and take" of the project. Give and take refers to the use of pressure treated wood during the winter months. The give refers to the woods expansion, and the take refers to the woods contraction that is caused by the effects of varying outdoor temperatures on the wood itself.
The first thing you have to remember when considering building any type of deck or other outdoor structure, whether the decking boards you choose are composite, PVC, vinyl, IPE or hardwoods the foundation of your structure will be constructed using pressure treated pine or another pressure treated wood. Wood curing is important to understand in relation to the wood's natural tendency to "give and take", and curing which occurs over the winter months offers many important benefits.
Pressure treated wood has a 50% moisture content when you initially build. This fresh lumber is sometimes referred to among builders as "green". The winter has less humidity and thus the pressure treated wood will stabilize itself and dry more consistently and evenly when you build in the winter. On the other end of the spectrum a summer deck construction exposes the pressure treated wood to higher humidity conditions. In addition, when drying in the hot sun, pressure treated wood will undergo expansion and contraction which can cause cracking, warping and other damage to the wood itself. Due to the orientation of the sun during the winter months, the sun doesn't beat down on your deck, and the pressure treated wood that holds the key to your project's structural integrity will not undergo these negative effects.
Another benefit of building in winter is you will also experience less wait time and backlogs which are typical in spring and summer projects. Our typical waiting list is 8 weeks in the height of the season, during the winter you are likely going to cut that wait time in half. A winter project also causes less lifestyle interruption because homeowners typically spend less time outdoors and less time participating in outdoor activities during the colder months of the year. You will also experience less deterioration of the ground, and less turf damage during the winter months because of the dormancy period that Columbus landscapes experience through the cooler months.
Keep in mind that Supreme Deck can also build your outdoor structure combination in stages. Winter is the perfect time to start the first stage of your desired outdoor living project. If you are considering a deck and patio combination for example, you can take advantage of our staged building option and build the deck this winter and then we can add the patio later into the spring.
History of Livonia, Michigan
Livonia is a city in the northwest part of Wayne County in the U.S. state of Michigan. Livonia is a large suburb with an array of traditional neighborhoods (most of which were built in the 1950s and 1960s) connected to the metropolitan area by freeways. The population was 96,942 at the 2010 census, making it Michigan's ninth largest municipality. The municipality is a part of Metro Detroit, and is located approximately 15 miles (24 km) northwest of downtown Detroit, and less than two miles (3 km) from the western city limits of Detroit (Redford Township lies between the two). In 2017 Livonia will be the home of its newest resident Amazon warehouse at Schoolcraft and Eckles.
First settled by pioneers from New England and New York, an act by the Legislature of the Territory of Michigan established the borders of Livonia Township on March 17, 1835. The settlers brought with them the name "Livonia", a name that had already been given to Livonia, New York, Livonia, Pennsylvania and a region of the Baltic Sea named Livonia in present-day Estonia and Latvia, from which many early settlers came.
During the days of the city being a township, many small communities have existed. One of these was Elmwood, initially known as McKinley's Station. It was a stop on the Detroit, Lansing and Northern Railroad. It had a post office from 1858 until 1906.[9] There was a post office in the township named Giltedge from 1899 until 1902.
Livonia was incorporated into a city on May 23, 1950, by vote of the citizens of the township. A significant motivation was to gain tax revenues from the DRC (Detroit Race Course), which was Michigan's only thoroughbred horse race track; it closed in 1998. Livonia is was home to the first outdoor mall called Wonderland Mall. Livonia has 3 high schools Churchill, Stevenson and Franklin. In 2017 Craig Niner and Rob Schepis purchased the building of Shooters Gun range at 29500 Six Mile which will be the new home to Supreme Deck, Inc & The Stain Depot. Both want to give back to the city in which they grew up in. The building will be one of Trex's largest showrooms for deck displays.