DECK BUILDERS & CONTRACTORS BLOOMFIELD HILLS MICHIGAN ( MI )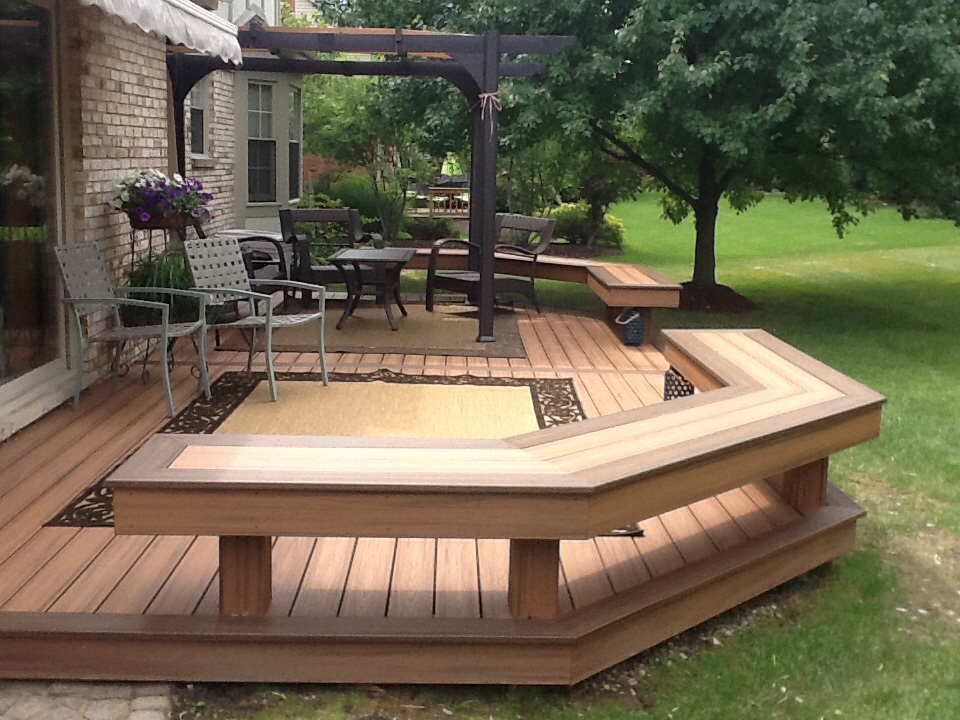 Supreme Deck, Bloomfield Hills, Michigan's premier deck builder and contractor, has been providing homeowners with exceptional services and products since 1991. Our experienced crews have pleased countless customers by transforming backyard outdoor living space with our custom wood and composite decks, gazebos and sun-rooms. Every home deserves to live up to its potential and we are the deck builder of choice stepping up to meet this challenge. Each project is unique. Together with the homeowner, we will design a deck or outdoor structure that will bring you satisfaction for years to come. Supreme Deck building contractors in Michigan, offer a wide choice of building materials that we can offer. Our commitment to furnish the highest quality at the most affordable price is still there after all of these years. Home owners are fast picking up on the growing popularity of home improvement. One of these is the installation of custom decks which functions for many different purposes. Decks are ideal home additions since they can be alternative function areas for varied activities, such as social events or family activities. Aside from this, there is the effective elimination of disorganized indoor surroundings since most play and fun activities are outdoors.
There are many general contractors and even more "construction companies" out there, but none can provide the single focus on your backyard the way we can. We don't do kitchens, bathrooms or any interior work. We don't believe in the "Jack of all Trades" concept. We believe in specializing in one trade. We have the ability to build a deck for you and to make sure it gets sealed properly for you. You do not have to hire one company to build your deck and another to seal it.

TrexPro® Platinum is the highest level of recognition available for an independent contractor. TrexPro® Platinum deck builders are the leading TrexPros in their markets, with demonstrated ability and expertise to design and build outdoor living projects with Trex, ranging from the simple to the most complex. Look for the TrexPro Platinum icon when you're searching for an official TrexPro® deck builder. A leading Installer of Trex decks in Bloomfield Hills, Michigan
Composite Decks
Made from recycled wood and plastic, composite decking is an environmentally friendly, cost efficient alternative to natural wood, with advantages such as reduced maintenance, color retention and durability…
MORE
Cedar Decks
If the natural look of wood is important to you, use cedar. It is rot resistant. Cedar doesn't readily absorb moisture and, since moisture is what creates twisting and splitting, cedar decking tends to lie flat and straight…
MORE
Pressure Treated Wood Decks
Great material to use on a property you are going to sell. Budget decking material. We do not see to many Wolmanized decks in Bloomfield Hills.
There are hundreds choices of alternative decking products and on top of that most manufacturers have several product lines so which one is right for me in Bloomfield Hills, Michigan?
These are questions we get asked all the time when we meet with clients and for good reasons. There are hundreds choices of alternative decking products and on top of that most manufacturers have several product lines so which one is right for me? When we add to this the fact that some alternative decking products have failed in the early years of the industry, causing companies and products to come and go, this can be a crippling decision.
The good news is that along with the bad experiences there are a lot of success stories that never get published. One of the best ways you can make sure that yours will be a success story is to educate yourself on the product you are considering and understand the pros and cons of the particular product. I stress again the pros and cons. There is not a perfect product that will be the best choice for all consumers and all applications, it just simply does not exist. They all have their strengths and weaknesses. Much like buying a car, one model does not fulfill everyone's needs. Some people need more space some less. Some need better gas mileage and some prefer more power. The point is the right decision lies in your personal desires, needs, and criteria. If someone tries to convince you that there is a perfect product chances are that they are selling to you instead of educating you.
We can group these alternative products into two broad categories. When we use the term alternative we are talking alternatives to the standard pressure treated Southern Yellow Pine (pressure treated lumber).
Alternative wood decking products in Bloomfield Hills, Michigan
Cedar, Ipe, Thermally modified wood, Bamboo, Redwood, Cumaru, Massaranduba… These are all wood products that are either a different species or they are modified in some way. People that love real wood products will gravitate to these, I call them purist.
Cedar and Redwood are the main softwood players in this category and are rich in naturally occurring tannins which resist decay and termites. Today's widely sold cedar is not the same as it was 30 years ago. Most of it is fast grown/farmed with very little heartwood so the richness of the tannin is not there, which has jeopardized its performance in horizontal applications such as decking where you have sitting water. On vertical applications it's still widely used and does fine with a pre-application of stain on all sides.
Ipe, Cumaru, Massaranduba are hardwoods that are harvested in rainforest and are very dense and hard, so hard that Ipe has a class B fire rating and does not float in water. Due to its hardness and natural properties it's widely touted as being a 50 year lifespan product. These woods have a very rich look that will need maintenance to retain their natural beauty, otherwise they will turn to a weathered silvery grey.
Synthetic decking products in Bloomfield Hills, Michigan
Composite decking, Capstock, PVC, cellular PVC, Wood plastic composites, aluminum decking …etc. All these products that are man-made. I will focus on the ones that are most popular in the Northeast Ohio area, which would be the capped composites (Trex and TimberTech) and capped PVC (Azek Deck) products. Although the exact make up of each product is a closely guarded recipe, they break down into two categories: products contains some real wood content and products with all synthetic materials.
The advantages of adding wood (wood capped composites) to the decking is that it creates a firmer feel and more realistic look, these boards are quite dense and heavy.
The advantages the cellular PVC capped products have is the have less heat retention, no wood or organic materials, much lighter in weight.
Trex Transcends is a capped composite (has wood filler) with the cap on 3 sides. Trex did this so the product can breathe and that the moisture has a way of escape from the bottom (think of weep holes in window approach). It's available in solid and variegated colors and has a matching railing system for solid colors. Another characteristic of this deck board is that the scratch resistance is really good and the Transcends line is made of 95% recycled materials.
TimberTech Earthwood Evolutions Terrain is a capped composite (has wood filler) with the cap completely surrounding the decking board on 4 sides. Their approach is to seal out moisture completely. This is not their high end line but a very good board for the money. It's available in solid and variegated colors. TimberTech has a wide selection of railings to go with it including a newly launched Impression aluminum rail.
Azek Deck is a cellular PVC capped board (no wood fillers). This product is capped on all 4 sides and does not have any wood content in it. It's a lighter weight board and not as dense as the composites. They also have solid and variegated colors available, with the solid colors have a matching railing system. A wide selection of colors and this product is ground contact approved.
There are many more options available and this is only to serve as an overview of some of the popular products in our area. I would recommend asking and ranking in the order of importance the following parameters:
Scratch resistance: How important is this to you? Do you have a dog? Are you the type that is going to notice every little scratch and will this keep you from enjoying your investment? If so go for a product with good scratch resistance and a product where the scratches will not be very visible. They will happen, it's a floor surface that you wear. Take your keys and scratch a sample piece of decking you are considering using.
Traction: Will this be used year around as the main point of egress? The deeper grain patterns will give more traction in wet conditions. Test out a sample by laying it out and dragging your foot on it, or ask your deck builder to visit a deck with the same product so you can walk on it.
Maintenance: How much effort are you comfortable with? There is no such thing as no maintenance. Everything will require some. The alternative synthetic products are made so all you have to do is clean them, no staining necessary. With woods you will need to apply some sort of deck stain/sealer to prolong the life of it.
Fade and stain resistance: A lot of new synthetic products have a fade and stain warranty (check the fine print most are pro-rated). With a wood deck you can always re-stain, so it is not as much of a concern. The way to test this is take sample pieces of decking and spill different things on them.
Longevity: What is the time projection of your deck project? If you are planning on re-working something or moving shortly, you might limit the level of investment. If you planning on staying a few years the low-maintenance decking products will appeal since they are made to stay nice for a long time. A wood deck, even with superb maintance, will have splinters, grain lifting and cupping years down the road. That's when these alternative materials shine.
Budget: Here is the reality check, what are you willing to invest? These alternative materials are nice and have great features but they can cost 2 to 3 times the price of a standard pressure treated deck.
Heat retention: Different products will hold a varying amounts of heat, with color being a factor in thermal retention. Decks near pools have this as one of their primary concerns. Take a few samples and set it out in the sun and feel the difference and if you want to be technical measure them with a thermometer.
Color: Does your desired deck board come in the color you are looking for? Does it have a matching railing system? Oftentimes I have seen clients spend much time in doing research only to find out that they do not like the colors the decking comes in. For example, if you want a matching railing system only the solid colors will offer that. If you are going for a black or white rail, any decking color will work with that. Don't just focus on the decking but consider your whole color scheme. Right or wrong aesthetic is usually what will make the final decision.
---
Even though there are hundreds of choices, this does not have to be an overwhelming decision making process.
Do your own research and consider the different parameter and make a mental list of what will be the most important. This can cut down on your time considerably.
Find a deck builder who is will to listen to your needs, share with him your goals and let him help. A good deck builder that you can build a relationship with is a great resource to you since they work with these products every day. This might not be a onetime event. Your deck might need some service work in the future, or you might want to add some features later. Look at this as a long time relationship into which both sides are willing to invest.
Ask to walk a deck that was built with the materials you are considering.
Establish realistic expectations with the decking product of choice, remember all products will require some maintenance.
Look at 3-D design. There are also many programs and visualizers to help you get a concept of how your deck will look.
Don't just focus on one thing like decking materials. A lot of things play into effect to make a successful deck, like design, layout, railings, and location to the sun, house and yard. Consider privacy form your neighbors and existing, or future landscape.
Make sure you are comfortable with your decision of product manufacturer. Warranties have a lot of fine print and can be a hassle to navigate through. Most of the time the warranties apply only to the manufacturers own product and are pro-rated.
A beautiful and functional deck is one that will take all these different aspects into consideration and takes advantage of them.
Deck building and construction is what we specialize in.
Michigan homeowners realize that by expanding their living space to the outdoors, they are making an investment that will not only increase the value of their home, but will provide a haven for relaxation, leisure, and entertainment. A deck does exactly that. Because this decision is so important, homeowners desire to work with someone they trust will maximize their home's value. That is why Supreme Deck is determined to provide you with the best possible service available.There are many material options on the market available to homeowners looking to begin the deck building process. Some of these include pressure-treated lumber, composite, PVC,Trex, Ipe, cedar, Cumaru, redwood, Azek, Fiberon, and other low-maintenance materials. The material you choose couples with the design to produce the product of your dreams.Supreme Deck, Inc. has created three specific choices to help homeowners narrow down your deck building project. We allow YOU to choose the level of service you would like; choose from Builder Series decks, custom decks, and composite deck packages..
BUILDER SERIES
This homeowner is looking to build a standard deck- simple and beautiful, made of quality material, and value-packed. You have the option to choose from four of our most popular deck sizes. The sizes and material options are limited, but due to the high volume and demand for these particular decks, we are able to offer them for an exceptional price giving the homeowner our builder pricing.
RE-DECK or RESURFACE
Do you love your deck but are tired of the maintenance? Does your deck have a good structure but you are eager to update the "look"? Is you deck floor or railing rotting? This package is for you. We begin this process with a structural assessment on your current deck. We remove old decking and railing and reinstall with low-maintenance or composite decking and railing or with another material of your choice.
COMPOSITE | LOW MAINTENANCE DECK | TREX DECKS
Crafted with excellence and completely custom, this is the product which is the evidence of your dreams realized. The options and design choices for your deck building project are endless. Each project is fully custom built around you and your home. The way you intend to use this deck is imperative during the design process. Do you entertain a lot? Will you need lighting to invite the crowds from indoors to meander outdoors and extend the leisurely enjoyment? Do you enjoy multi-tiered decks or a big expanse of space at a single level? Will you need shade during certain parts of the day? And truly custom to YOU, do you prefer to mix natural elements with low-maintenance options? All these questions will help yield a deck design that will be certain to satisfy you. Call us to start your dreams…
DECK REPAIR & DECK CLEANING
We have handyman on staff that are trained in replacing rotting deck boards, lattice, loose rails, rotted king posts, and even level decks that have heaved after the winter thaw. Purchase a new house and need an opinion if the deck is up to code? Supreme Deck is a licensed building company that can excel at every level of carpenter that is needed down to a single board repair. We service and repair thousands of weathered and neglected decks. We can also replace fence posts that have rotted causing the fence to lean or tilt. Have a deck where the steps are rotting and need replaced? We see it all the time. We can also give you a free estimate to clean and seal the deck while we are there.