DECK CONTRACTORS ROYAL OAK MICHIGAN ( MI )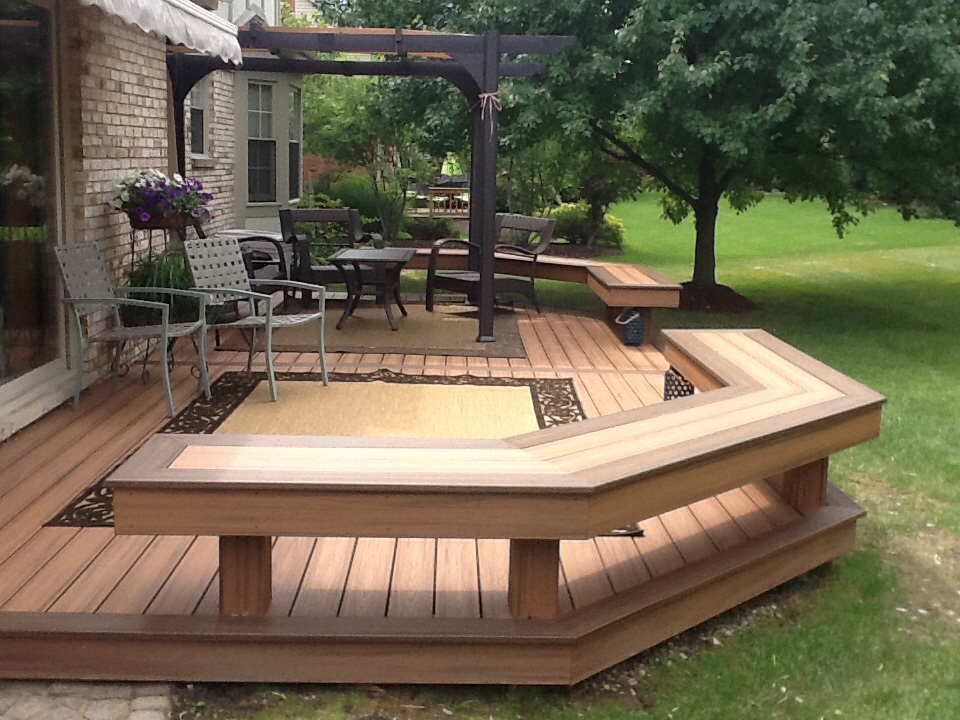 Supreme Deck Royal Oak Michigan's premier custom deck builder and contractor, has been providing homeowners with exceptional services and products since 1991. Our experienced crews have pleased countless customers by transforming backyard outdoor living space with our custom wood and composite decks, gazebos and sunrooms. Every home deserves to live up to its potential and we are the deck builder of choice stepping up to meet this challenge. Each project is unique. Together with the homeowner, we will design a deck or outdoor structure that will bring you satisfaction for years to come. Supreme Deck building contractors in Michigan, offer a wide choice of building materials that we can offer. Our commitment to furnish the highest quality at the most affordable price is still there after all of these years. Home owners are fast picking up on the growing popularity of home improvement. One of these is the installation of custom decks which functions for many different purposes. Decks are ideal Royal Oak home additions since they can be alternative function areas for varied activities, such as social events or family activities. Aside from this, there is the effective elimination of disorganized indoor surroundings since most play and fun activities are implemented outdoors.
Searching for deck builders near me? There are many general contractors and even more "construction companies" out there, but none can provide the single focus on your backyard the way we can. We don't do kitchens, bathrooms or any interior work. We don't believe in the "Jack of all Trades" concept. We believe in specializing in one trade. We have the ability to build a deck for you and to make sure it gets sealed properly for you. You do not have to hire one company to build your deck and another to seal it. We build great decks for less than the competition.



Read Our Reviews


A 2016 TrexPro Platinum Installer
Composite Decks
Made from recycled wood and plastic, composite decking is an environmentally friendly, cost efficient alternative to natural wood, with advantages such as reduced maintenance, color retention and durability…
MORE
Cedar Decks
If the natural look of wood is important to you, use cedar. It is rot resistant. Cedar doesn't readily absorb moisture and, since moisture is what creates twisting and splitting, cedar decking tends to lie flat and straight…
MORE
Pressure Treated Wood Decks
A great way to attract new tenants in an old bungalow home.  Royal Oak homeowners remove the back window and put in a doorwall leading to a small treated deck in the back.  This is easy for us to handle for you.
Deck building and construction near Royal Oak Michigan.
Royal Oak Michigan homeowners realize that by expanding their living space to the outdoors, they are making an investment that will not only increase the value of their home, but will provide a haven for relaxation, leisure, and entertainment. A deck does exactly that. Because this decision is so important, homeowners desire to work with someone they trust will maximize their home's value. That is why Supreme Deck is determined to provide you with the best possible service available.There are many material options on the market available to homeowners looking to begin the deck building process. Some of these include pressure-treated lumber, composite, PVC,Trex, Ipe, cedar, Cumaru, redwood, Azek, Fiberon, and other low-maintenance materials. The material you choose couples with the design to produce the product of your dreams.Supreme Deck, Inc. has created three specific choices to help homeowners narrow down your deck building project. We allow YOU to choose the level of service you would like; choose from Builder Series decks, custom decks, and composite deck packages..
BUILDER SERIES FOR ROYAL OAK
This homeowner is looking to build a standard deck- simple and beautiful, made of quality material, and value-packed. You have the option to choose from four of our most popular deck sizes. The sizes and material options are limited, but due to the high volume and demand for these particular decks, we are able to offer them for an exceptional price giving the homeowner our builder pricing.
RE-DECK or RESURFACE YOUR ROYAL OAK DECK
Do you love your deck but are tired of the maintenance? Does your deck have a good structure but you are eager to update the "look"? Is you deck floor or railing rotting? This package is for you. We begin this process with a structural assessment on your current deck. We remove old decking and railing and reinstall with low-maintenance or composite decking and railing or with another material of your choice.
COMPOSITE | LOW MAINTENANCE DECK | TREX DECKS FOR ROYAL OAK, MI
Crafted with excellence and completely custom, this is the product which is the evidence of your dreams realized. The options and design choices for your deck building project are endless. Each project is fully custom built around you and your home. The way you intend to use this deck is imperative during the design process. Do you entertain a lot? Will you need lighting to invite the crowds from indoors to meander outdoors and extend the leisurely enjoyment? Do you enjoy multi-tiered decks or a big expanse of space at a single level? Will you need shade during certain parts of the day? And truly custom to YOU, do you prefer to mix natural elements with low-maintenance options? All these questions will help yield a deck design that will be certain to satisfy you. Call us to start your dreams…
DECK REPAIR & DECK CLEANING
We have handyman on staff that are trained in replacing rotting deck boards, lattice, loose rails, rotted king posts, and even level decks that have heaved after the winter thaw. Purchase a new house and need an opinion if the deck is up to code? Supreme Deck is a licensed building company that can excel at every level of carpenter that is needed down to a single board repair. We service and repair thousands of weathered and neglected decks. We can also replace fence posts that have rotted causing the fence to lean or tilt. Have a deck where the steps are rotting and need replaced? We see it all the time. We can also give you a free estimate to clean and seal the deck while we are there.
Royal Oak was incorporated as a village in 1891, and as a city in 1921. The name originated in 1819, during one of Territorial Governor Lewis Cass' surveying expeditions. A large oak tree located near the present-day intersection of Crooks, Rochester, and Main reminded Cass of the Royal Oak which King Charles II of England hid in to escape capture by the Roundheads after the Battle of Worcester.
HISTORY OF ROYAL OAK
In the 1920s, Father Charles Coughlin became the founding pastor of the Shrine of the Little Flower, a prominent landmark in the city. Through his ministry, he raised funds to build the present limestone Church complex and tower from which he aired his radio show.
Throughout the late 1990s and early 2000s, Royal Oak's downtown grew into an entertainment and nightlife destination. A number of large condominiums and lofts have been built in the area. The city also has a Farmers Market located at the corner of 11 Mile Road and Troy Street, adjacent to the 44th District Court. The Royal Oak Farmers Market opened as a truck market, at the corner of 4th and Troy streets, on October 14, 1925 as a cooperative venture between the then-new City of Royal Oak and Oakland County, Michigan. The present structure was erected in the spring of 1927 and dedicated July 1 of that year. For the past 10 years the city has seen many of its older bungalow homes being torn down and replaced with new larger "lake type" homes.  In 2016 the city named a road after Glen Fry's old elementary school to honor him of his passing.